Parmesan Crisps Bruschetta
Bruschetta is one of my all time favorite appetizers! It is a perfect side dish for summer when all tomatoes are ripe and delicious.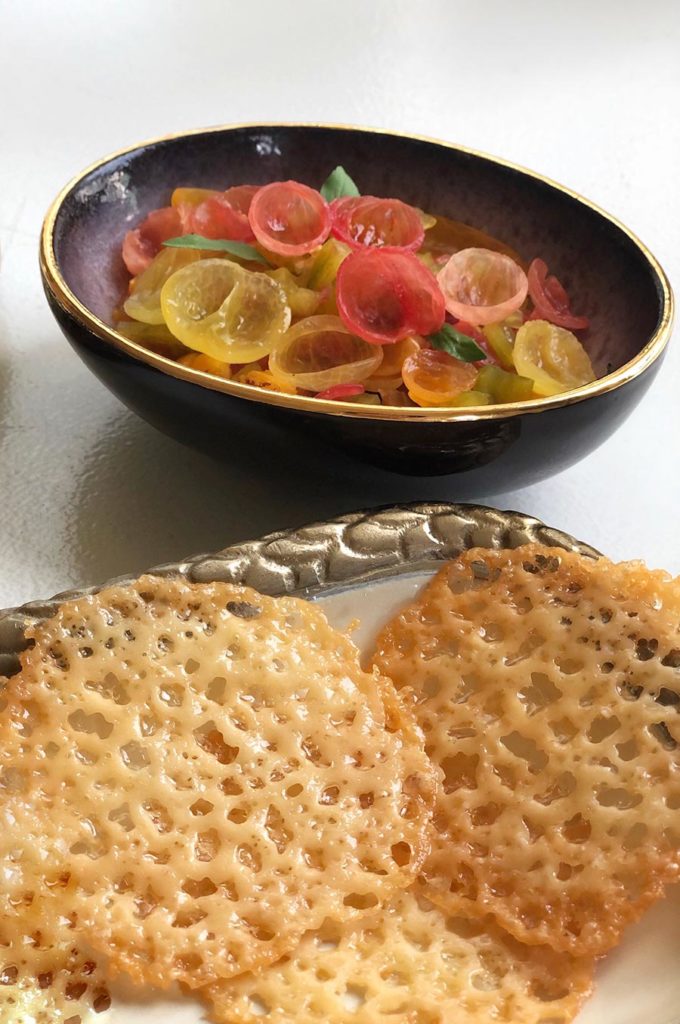 WHAT IS BRUSCHETTA?
Bruschetta (pronounced as Bru-Sketta) is an Italian appetizer or antipasto. While bruschetta is often associated with the diced tomato, herbs and seasonings atop the toast, the word bruschetta actually refers to the preparation of the bread, which should be rubbed with garlic and toasted.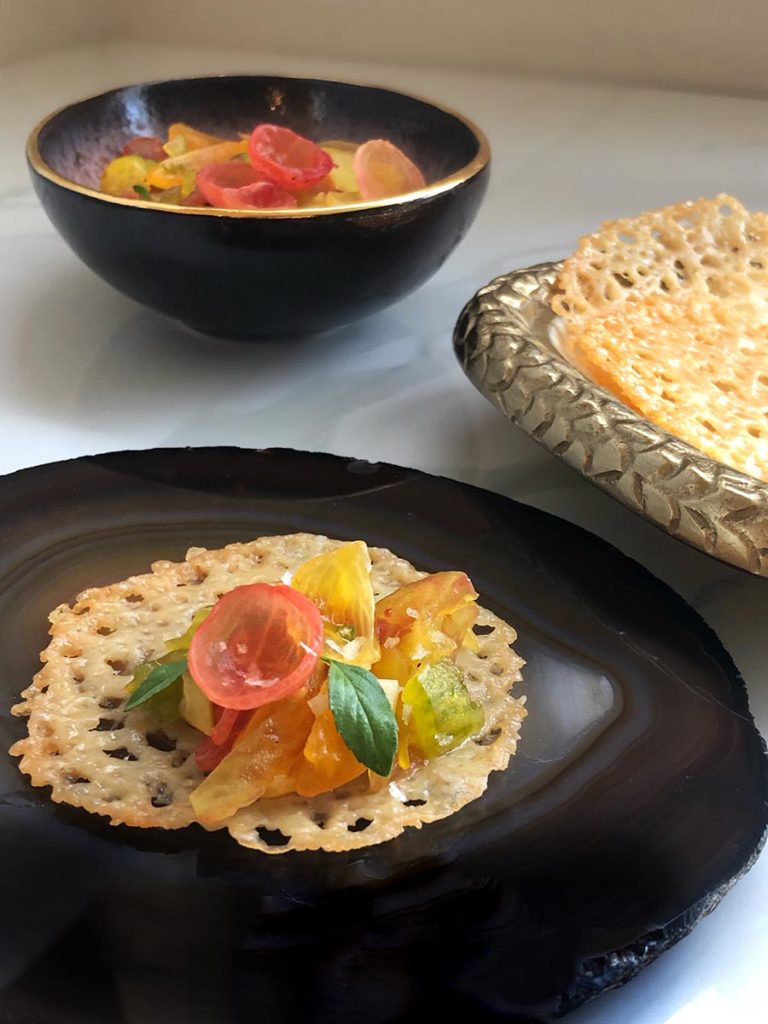 PARMESAN CRISP BRUSCHETTA:
Although the bread is the most important part of bruschetta, it's not always an option for those with a gluten allergy. Thus, I created a gluten free bruschetta recipe using home-made parmesan crisps (and it happens to be keto-friendly as well). It only takes 5 minutes to make them and they are cheaper and more delicious than the store-bought packages. It just takes a whole parmesan and a grater. More to come below on this step.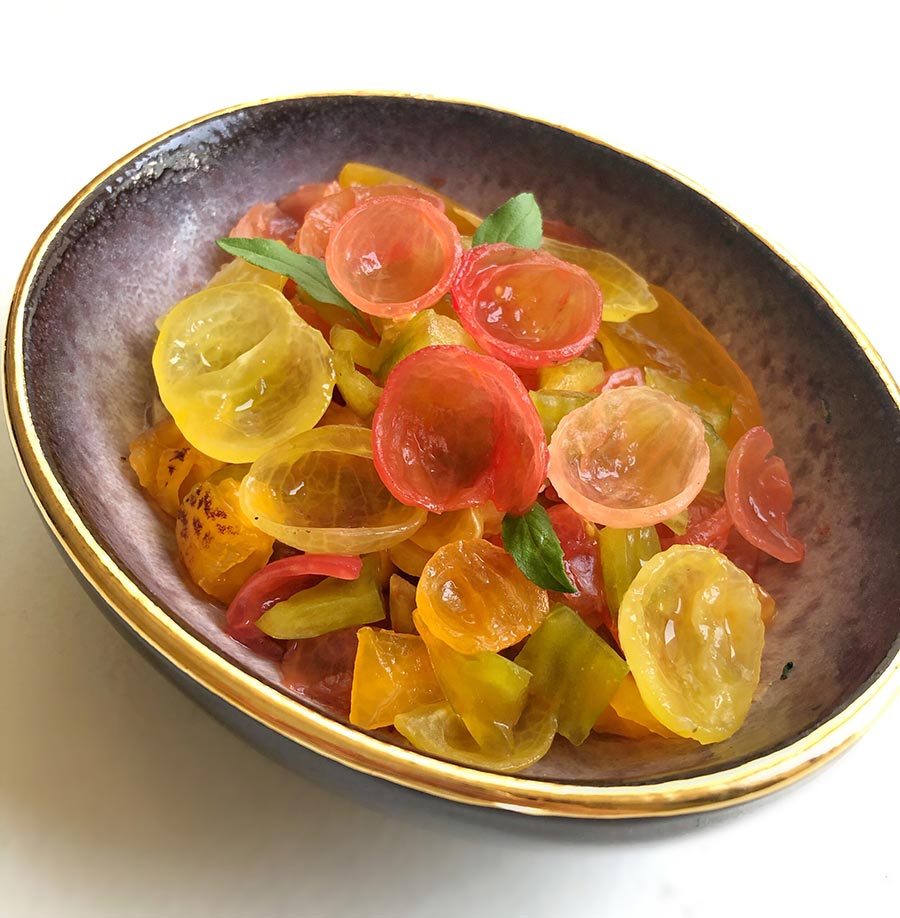 THE TOPPINGS:
It's not a surprise that diced tomatoes are the most common ingredient used over the bruschetta as it perfectly complements the existing elements. There are plenty of recipes online recommending the use of balsamic vinaigrette for the bruschetta but the traditional Italian recipe calls for a drizzle of red wine vinegar so it doesn't over power the tomatoes. With that said, when tomatoes are in peak season, I prefer to leave the vinaigrette out altogether. It's critical to select ripe tomatoes for the flavor as well as the techniques described below.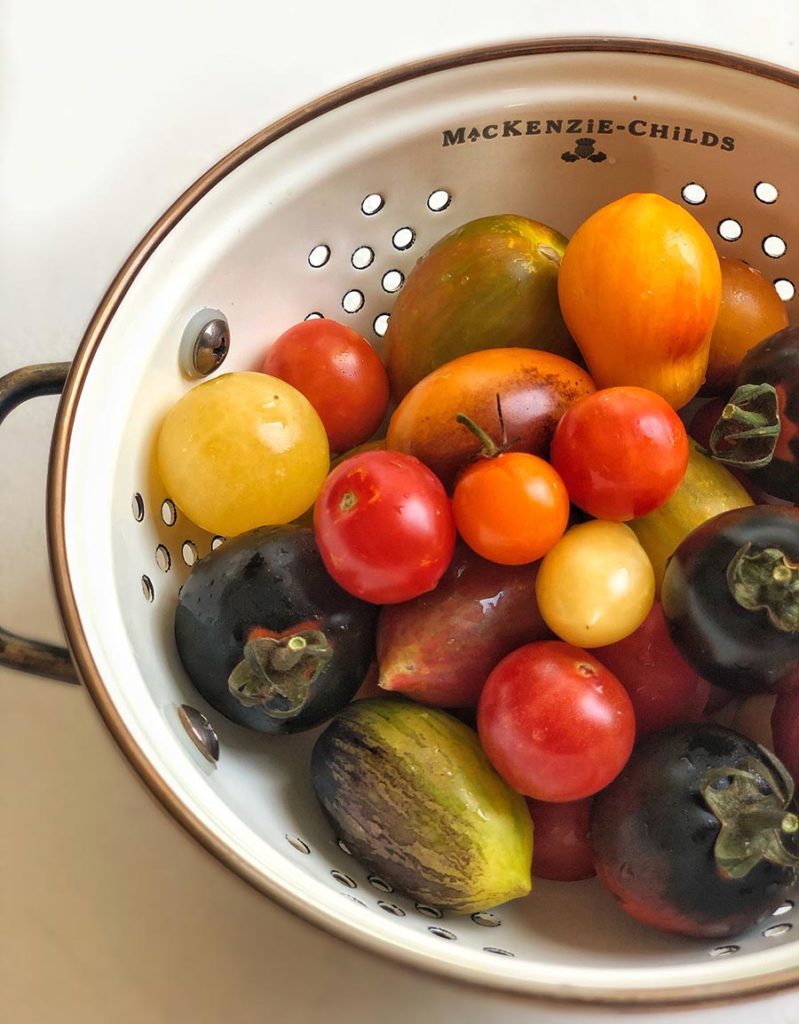 My first recommendation is to de-seed the tomatoes. I have found that by de-seeding it reduces the water content so it'll sit better over the bruschetta without creating a soggy mess. Further, I take the skin off as well for a velvety texture with better health benefits. It will also be much easier to de-skin ripe tomatoes.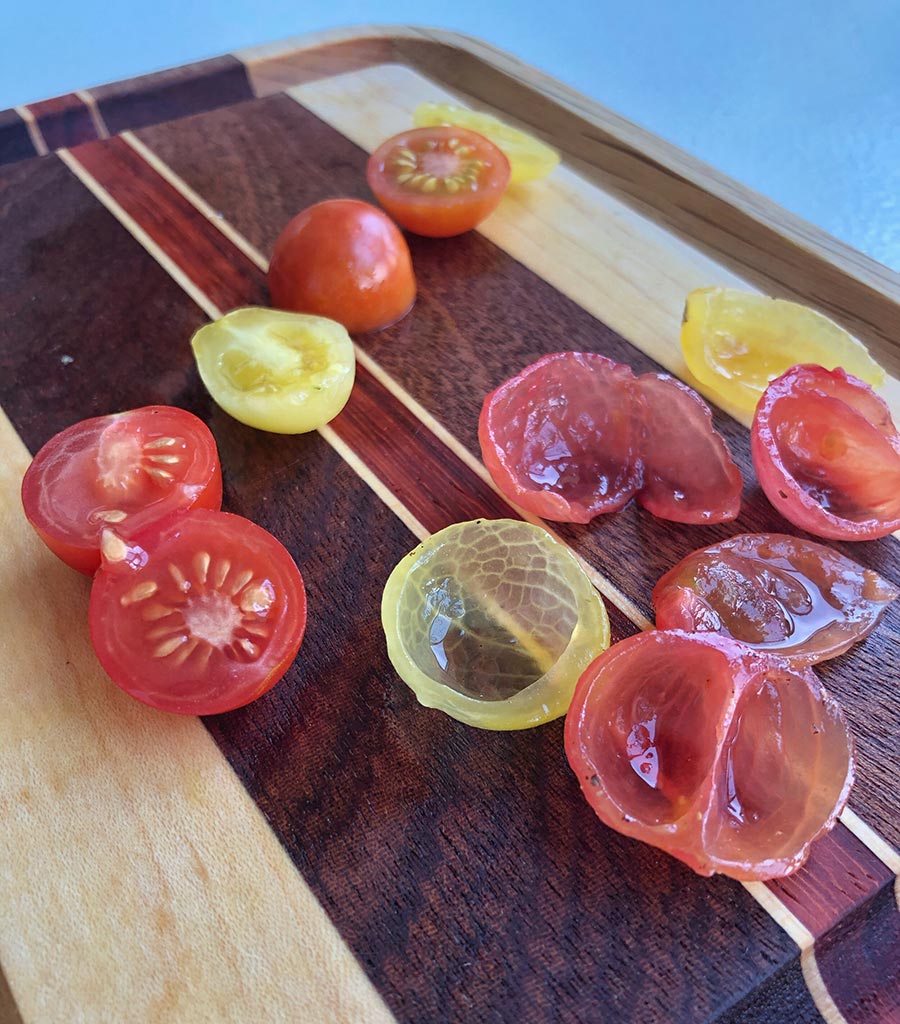 To avoid being wasteful, I place a small strainer over a cup and, with a spoon, scoop the seeds (and the gelatinous center) to throw into said strainer. I then squeeze the seeds to get all the juice back into the cup. You can use this fresh tomato juice in any tomato-based soup or simply freeze for future use. I prefer to drink it on the spot while it's fresh, adding a pinch of salt!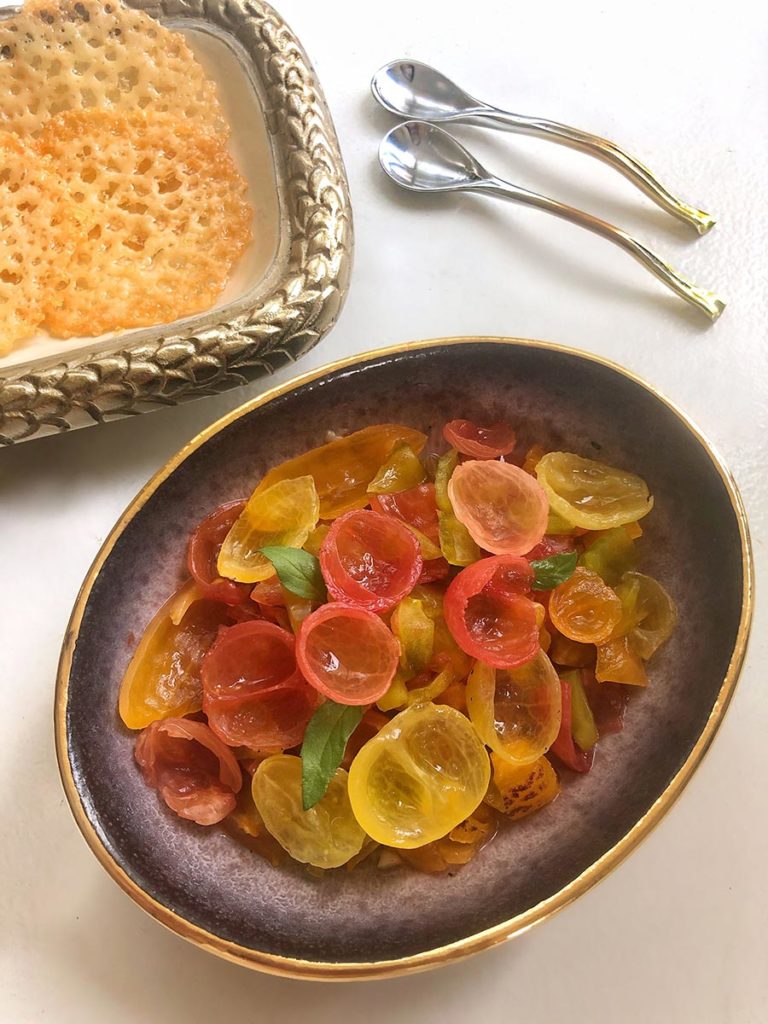 SHOULD BRUSCHETTA BE SERVED WARM OR COLD?
This appetizer is best served on a freshly toasted bread while the tomato topping is at the room temperature. You can toast or grill the bread for an extra crunch and top it off with fresh tomato and basil.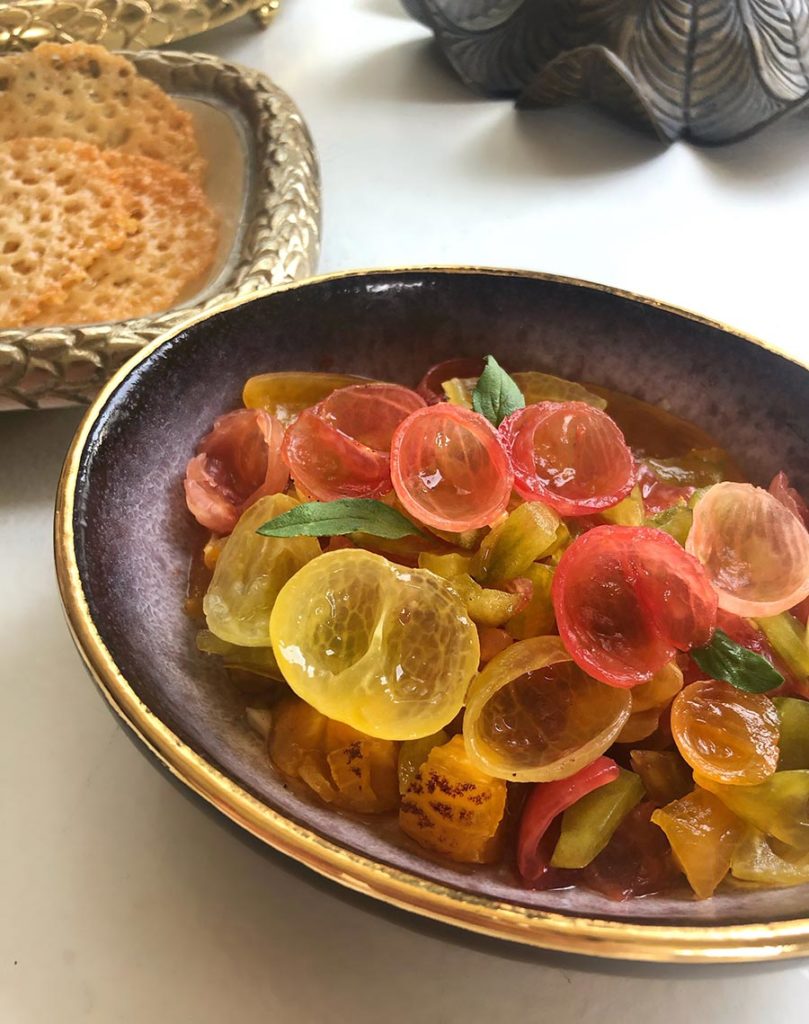 CAN YOU MAKE BRUSCHETTA IN ADVANCE?
Yes! It will be much easier to prep everything in advance specially if you are hosting for a larger party. Be sure to take the tomato mix out of the fridge and allow it to get to room temperature before placing it on the bread.
INGREDIENTS:
20-25 ripe cherry tomatoes or 6-7 ripe beefsteak tomatoes, diced

2 cloves garlic, minced

2 Tbsp extra virgin olive oil

1 Tbsp red wine vinegar

6-8 fresh basil leaves, finely chopped

Salt and pepper to taste
FOR SERVING:
1/2 cup of fresh Parmesan cheese, grated
HOW TO MAKE THE PARMESAN CRISPS:
Preheat oven to 400°. Line a large baking sheet with parchment paper . Spoon cheese into circles while patting down the cheese. leave about 2-3 inches between each mound as they expand through heating. Bake for about 3-5 minutes or until golden brown. Make sure that the cheese is completely cooled off before you remove it from the parchment paper or it can break apart.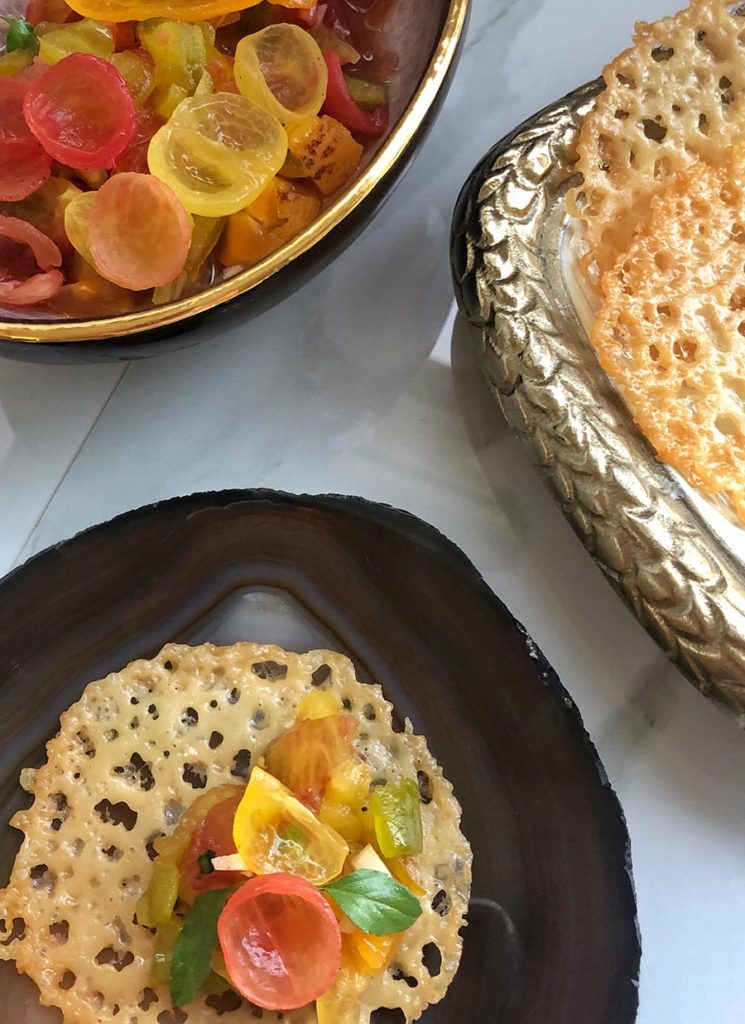 HOW TO MAKE BRUSCHETTA:
Combine the tomatoes, chopped garlic, vinegar, olive oil, basil in a small bowl. Sprinkle with some salt and pepper. Scoop the Tomato mixture over each Parmesan crisp and serve immediately.