Rosewood Mayakoba, Mexico
I fancy myself a world traveler as I have visited well over 40 countries; and I have had the fortune of staying at some of the best 5-star resorts in the world. What I can tell you is that Rosewood Mayakoba, without a doubt, is second to none and by far our favorite resort.
The resort is designed so beautifully that it'll leave you speechless. Further, the staff are all about the details, even acknowledging you by name throughout your stay, and they focus on going above and beyond to cater to all your needs. Expect to be treated like royalty at the Rosewood Mayakoba!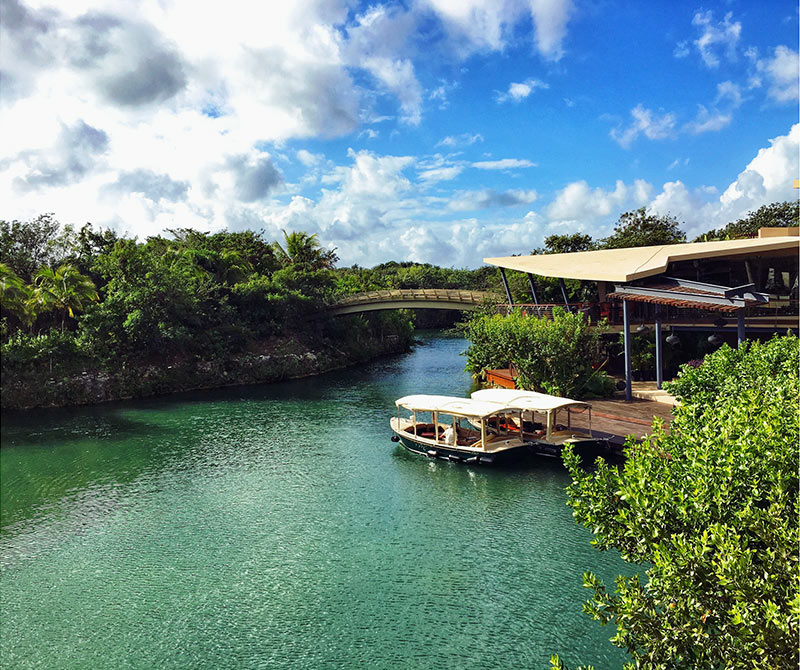 Rosewood Mayakoba had been on my radar for quite a while as it has been the #1 luxury resort on TripAdvisor for some time. It is also featured by Forbes travel guide, Travel and Leisure, Conde Nast Traveler and many other websites so I couldn't wait to check it out. I booked Rosewood for a total of 4 nights and to celebrate my husband's birthday, which was sufficient time to thoroughly enjoy all of its amenities as well as a full day in Tulum, an absolute must-see. Read more about our trip here.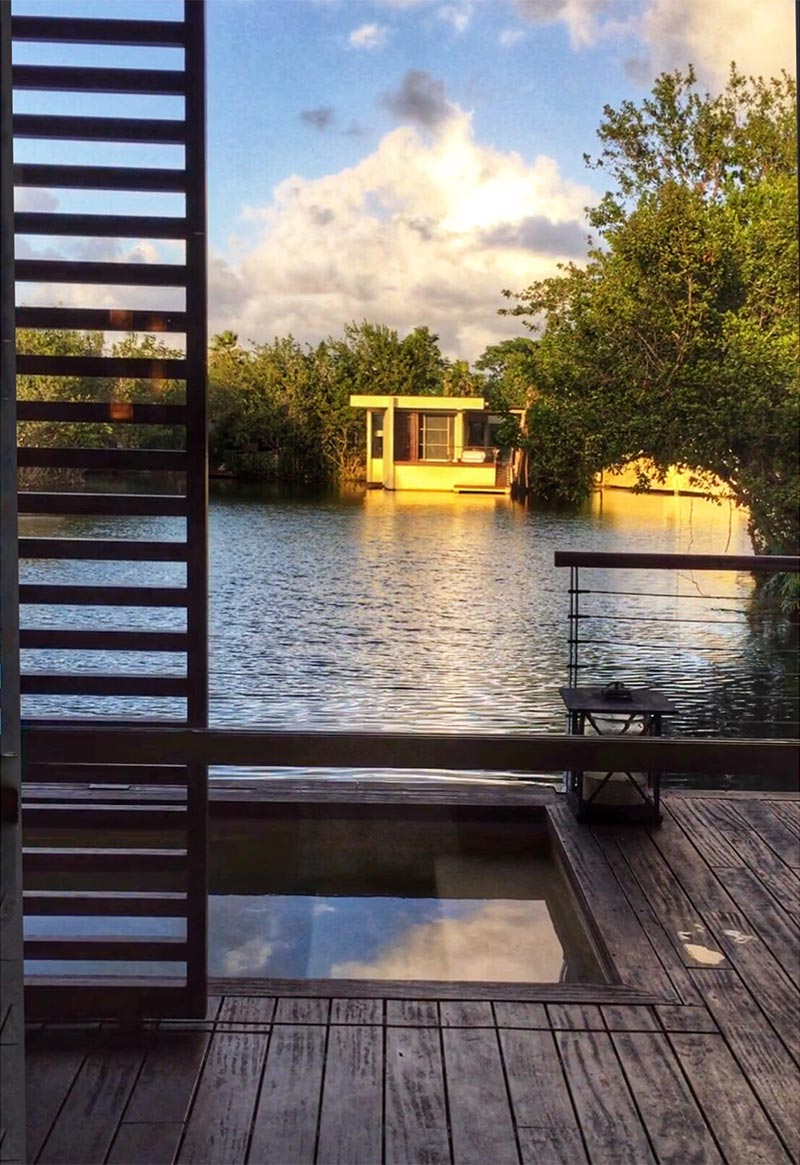 Rosewood is located in a small town called Mayakoba approximately an hour south of Cancun. Mayakoba is a small, gated community of wonderful hotels that include Banyan tree, Fairmont and Andaz along the aforementioned Rosewood. Security will you to check-in each time you enter and exit the area.
All hotels in the community share a beautiful lagoon and you can traverse to the neighboring resorts via small, communal ferry boats. With that said, the Rosewood will give you access to private boats, a clear advantage to the other hotels. You may also book a private dinner on the boats for a day excursion or a sunset cruise, which is exactly what we did for my husband's birthday.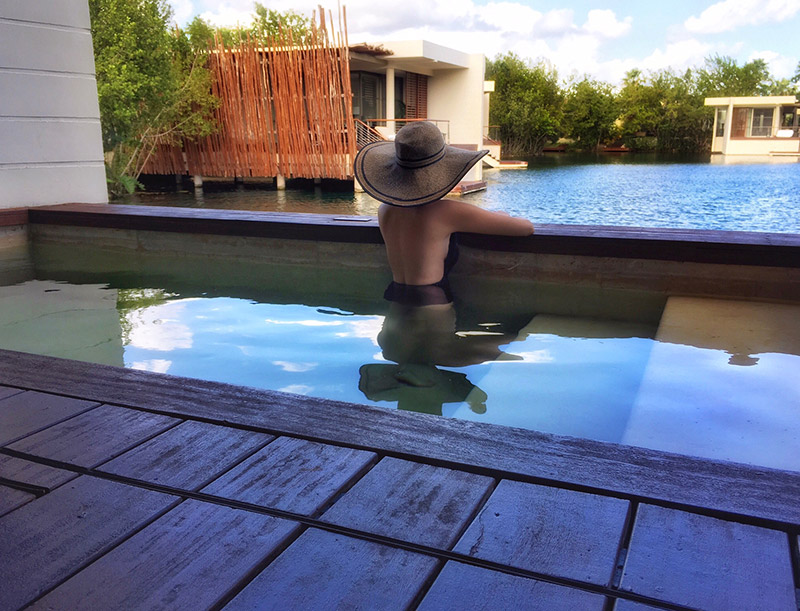 The rooms:
All rooms are suites and quite spacious with their own pool as well as an indoor and outdoor shower. We stayed at the deluxe over-water lagoon, a perfect suite for honeymooners or all couples for that matter.
Rooms are individual bungalows, which gives you a sense of seclusion, and the overall property is expansive; thus, you'll want to requests pick-up and drop-off service on their golf carts to help you navigate resort. You may also requests bicycles to gallivant around the property.
Each suite comes with butler service with dedicated staff to address any requests and to make your stay all the more comfortable and relaxing. The butler may be contacted by a provisioned phone or through the Rosewood app. Thus, whether you're in need of reservations, transportation, help with your suitcase, dry cleaning or even your floatie(!) they're on your beck-and-call.
Pool and the beach :
There are 3 outdoor pools available in the resort. The rectangular pool near the lobby is favored by couples, at least by our observation, while families with children gravitated to the main pool by the beach. Either way the quality of service remain the same. Upon arrival, you'll be immediately provided a bucket of ice with bottled waters, fresh towels and Evian mist sprays to keep you cool and hydrated.
Rosewood has it's own private beach with immaculate sands and coastline views. The beach area includes many activities such as snorkeling, kayaking and rides on hobie cats. The resort can also arrange sail boats, jet skis among other activities.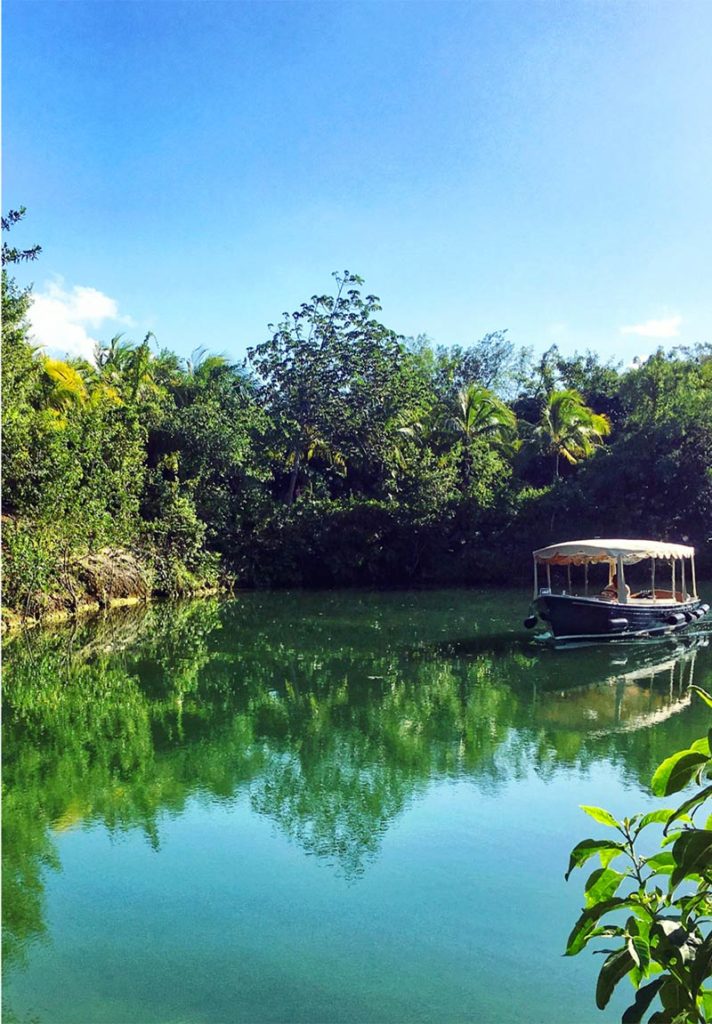 The Restaurants at Rosewood Mayakoba:
By far our most enjoyable experience was at La Ceiba. This popular restaurant is only available to hotel guests and operates on Wednesdays and Saturdays. The restaurant offers a set menu for its guests and reservations are an absolute must. The philosophy for the cuisine is all about cooking with an 'open flame' in accordance to Mayan traditions. The food, the ingredients are fresh and the flavors are rich. Our favorite dishes included their pork (carnitas) that was cooked under ground over night and their perfectly seasoned and freshly caught lobster. Both were an absolute delight.
The concept for the dining experience is about community. Two large tables are set under a Ceiba tree and the food is served family style to encourage dialog and interactions with your fellow hotel guests. The dining experience is fun and dynamic as your neighbors soon become your friends. Further, a live Yucatecan band which serenades the attendees throughout the night! Once we were done with dinner, we grabbed our drinks and started dancing and celebrated life with our new friends! Oh what a glorious night it was!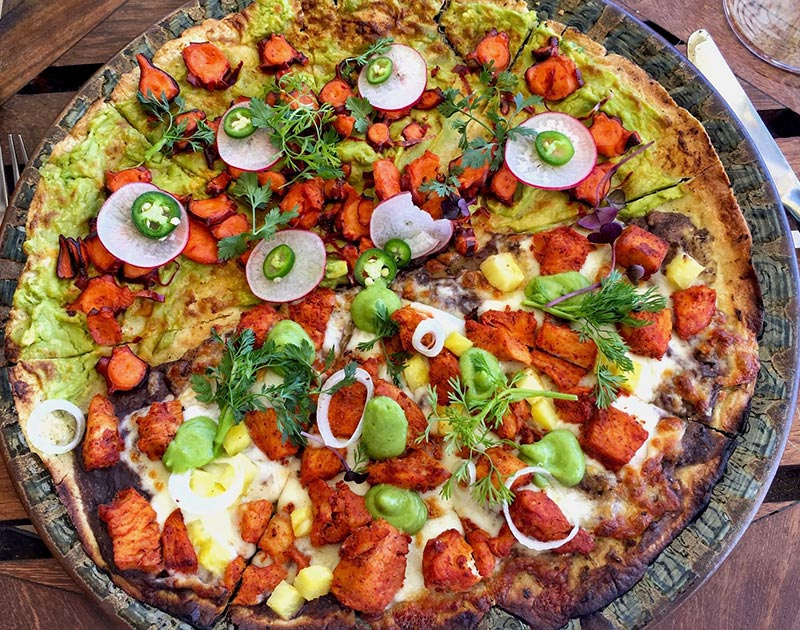 Located by the pool, Punta Bonita serves delicious Mexican food and operates most of the day. The restaurant offers light lunches and dinner with indoor and outdoor seating.
A fine dining restaurant featuring Italian food with touches of Mexican flavors and it's award winning wine list. Casa Del Lago is located right over the main lobby pool with a wonderful view and flavorful food. The daily breakfast also gets served here.
Agave Azul Sushi & Tequila Bar:
A fun beautiful restaurant Asian-inspired entrees and also happens to be a top-line tequila bar. Agave Azul hosts weekly tequila tasting and serves fresh local fish and sushi. It's particularly a great spot for pre-dinner drinks or late night snacks.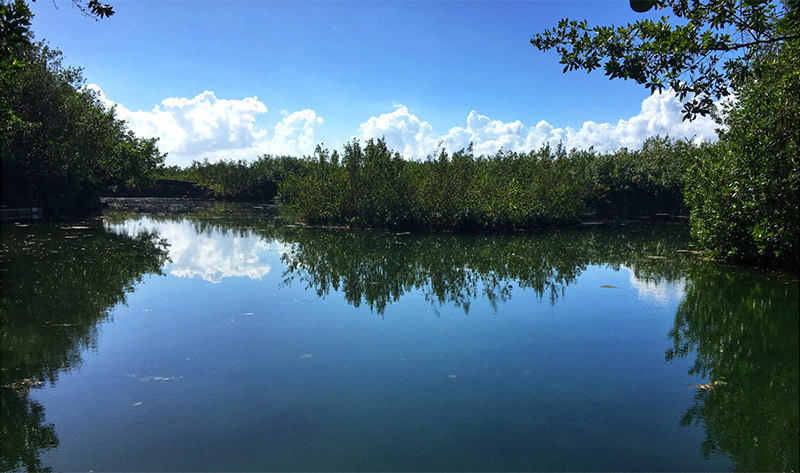 Activities at Rosewood Mayakoba:
Like so many other five-star hotels and resorts in the world, Rosewood Mayakoba offers free Hobie cat, kayaks and other water activities. But they also offer some of the most unique experiences for couples or small groups. You can book a romantic dinner by the beach or have a beautiful dinner set up on their private boat. If you'd like more adventure you can go horse back riding on the Playa.
As a birthday surprise for my husband, I opted for the private birthday dinner on the boat. The concierge emailed me two different sets of menus so that we could chose our meals in advance. The meals are prepared from Rosewood's 3 different restaurants (Agave Azul, Punta Bonita and Casa Del Lago).
On the day of my husband's birthday, the hotel surprised us with a beautiful bottle of champagne. We popped the bottle on our patio while I was anxiously awaited our boat to arrive. We were greeted by Martin (our Captain) who was so thoughtful and considerate and made our journey even more enjoyable. The boat was decorated with beautiful roses and flower petals all over the boat, which made the setting unforgettable.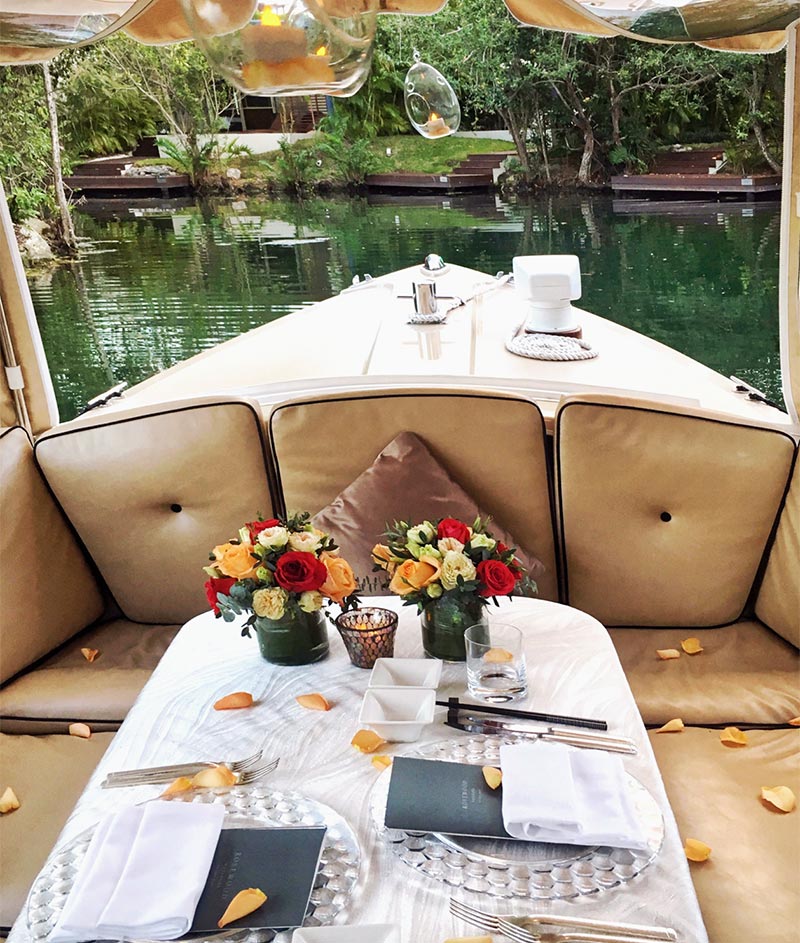 Martin started driving the boat to the restaurants and explaining about flora and fauna of the region. At each stop, a staff of the restaurant would come to the boat to transfer our meals and drinks. I still get goose bumps thinking about the whole experience. The word "dreamy" isn't good enough to capture how we feel about Rosewood. You have to go there and experience it yourself!