Bali has become one of the top destination for travelers all over the world. This beautiful island is famous for many different reasons. It's a fabulous destination for those who love to dive or surf the ocean; it's a great spot for those embracing nature, meditation or yoga; but most of all, it's the perfect getaway from the everyday hustle-and-bustle to enjoy some delicious food, mystical temples, and picturesque beaches.
Best time to travel to Bali:
The weather in Bali is warm all year around but there are two distinct seasons in Bali, wet and dry. The dry season is from May to October. The advantages are obvious as there is less rain, beautiful blue skies and a better conditions for surf or diving. With that said, it will mean that the island will be crowded with many visitors with crowded roads and hotel prices at their peak.
If you still like to take advantage of the dry season, aim to visit Bali around April, May or September; but just like any other country, be sure to check out the holidays calendar for the time of your travel. Indonesians celebrate all Muslim holidays, which can have a huge impact on your transit around the island. Roads can get extremely busy therefore visiting different areas of the island will become very challenging.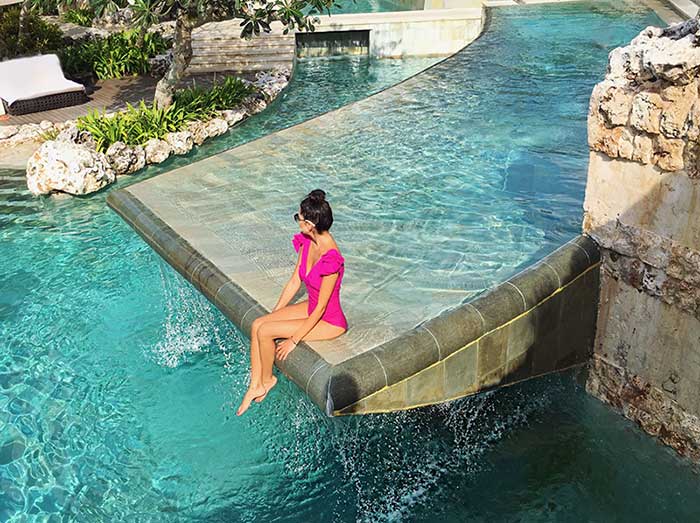 How many days is enough to visit Bali
Bali is not as small as you may think. If you really want to explore Bali and not feel rushed you should dedicate at least a week at a minimum. The island is quite large and, depending on what you like to see or the desired activities, there will be a lot of time on the road. The streets are narrow and mostly single-lane so it's especially challenging during high season where you're likely to find yourself spending a lot of time sitting in traffic.
Much like you might have read on other blogs, I would recommend you divide your trip by staying in a couple of different locations. It is the best way to explore different areas without wasting time commuting from one place to the other. As an example, if you want to stay in Seminyak or the southern part of Bali, it will take you around an hour to get to Ubud. Now, if you intend to visit the temples as well as the rice fields in and around Ubud, you will not have much time to make it to the beautiful Ulun Danu near the northern part of the island! Ulun Danu temple (pictured below) is one of Bali's iconic temples as it resides by the Danau Beratan lake surrounded by neighboring mountains. Make sure to get there early in the morning as the crowds will pour in with their tour buses in tow.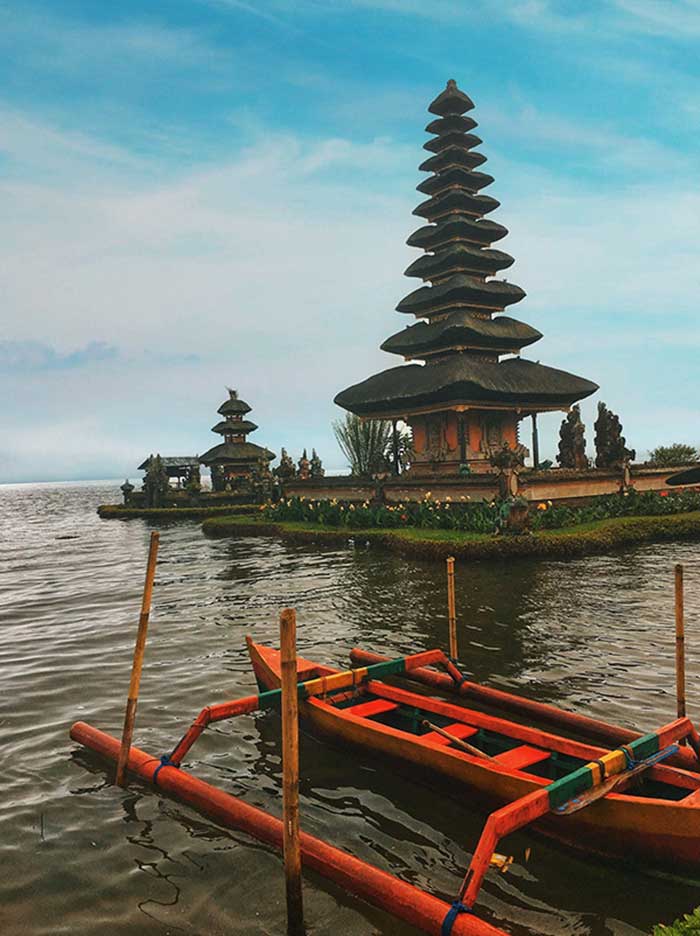 Where to stay in Bali?
I've highlighted some of the most popular places in Bali so you can decide which places you like the most.
Ubud:
Known for it's cultural heart, rice fields, beautiful temples, waterfalls and local markets, Ubud is where to fall in love (over and over again) . This traditional town is far from the beach and night life, which makes it more quiet and zen. If this is your first time in Bali, make sure to stay in this magical town and get lost in the lush of green rice fields and palm treas.
What's to do in Ubud?
This probably needs a whole page to itself but I'm going to talk about some of the highlights here:
Tegalalang Rice Terrace is one of the landmarks of Bali and a must visit. It's a beautiful place to walk around and take photos but know that it can be very hot and humid. Get some coconuts to stay hydrated and enjoy the amazing view of the fields.
Monkey forest is also located in Ubud. It's a beautiful sanctuary where the monkeys roam free; but be careful not to carry any food or precious items with you. They may take it away from you!
Tegenungan and Tibumana waterfalls are some of the best waterfalls in Bali. If you are planning to visit Tegenungan you have to make sure to get there early before the crowd gets there or it will be extremely busy with travelers. Tegenungan is around 45 minutes away from Ubud and Tibumana is around 20 minutes.
If you like to do Yoga in Ubud, make sure to visit Yoga Barn. They offer so many different yoga and meditation classes with reasonable prices.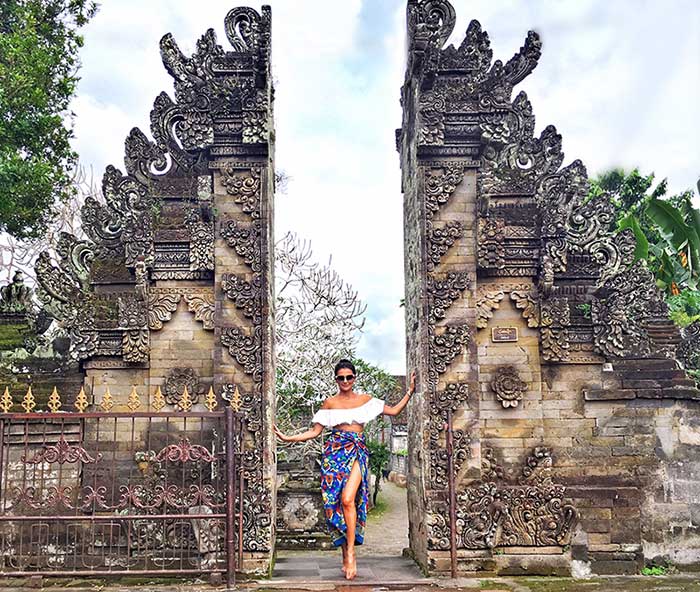 Seminyak:
Many of Bali's luxury resorts, upscale shops and finer restaurants are located in Seminyak. The nightlife is much livelier than other towns in Bali and the beaches are more vibrant and active. Ku De Ta and Potato Head Beach Club are amongst the most fun places to be at after the sun goes down.
Jimbaran:
Another town also known for upscale resorts and amazing food is Jimbaran. It is home to many seafood restaurants in Bali with unforgettable views. Some of the nicest bars including Rock Bar is located in Jimbaran.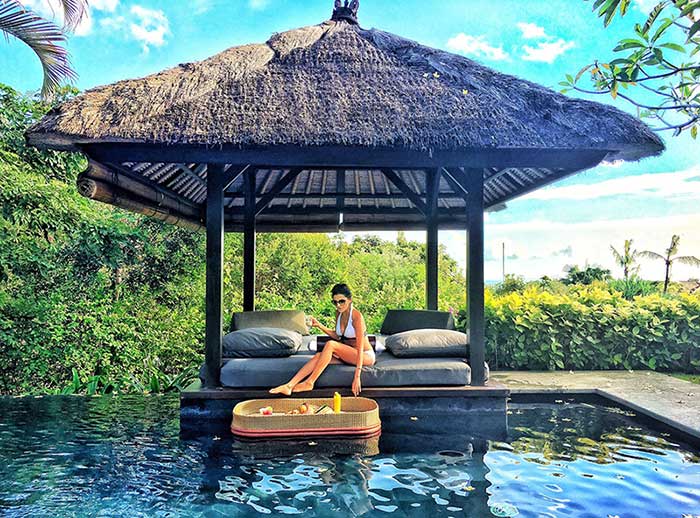 Kuta:
This once being a fishing village is now home to Bali's most famous beach. Surf by day and then immerse yourself in the nightlife as it one of the major hubs for partying on the island. Kuta, just like Legian, has a lot of budget accommodation available which makes it a popular place to stay. The largest water park in all Southeast Asia is located in Kuta.
Legian:
Located between Seminyak and Kuta, this town is also known for nightlife. There are lots of bars and clubs to chose from with a good mix of attractions. There's also a wide range of accommodations available which makes it a better place for budget traveler.
Nusa Dua:
Far away from the crowds in Nusa Dua you can find many luxury resorts and upscale shopping. Bali's national golf club is also located in this area. Surfing and diving are some of the popular activities here and it's one of the best places for honeymooners and jet setters.
Have fun planning and please leave a comment if you have any questions 🙂