Celebrating Independence Day may not be the same for many of us but that doesn't mean that it shouldn't be fun and delicious. Thus, I would like to share a few ideas on some festive desserts to prep for the 4th of July!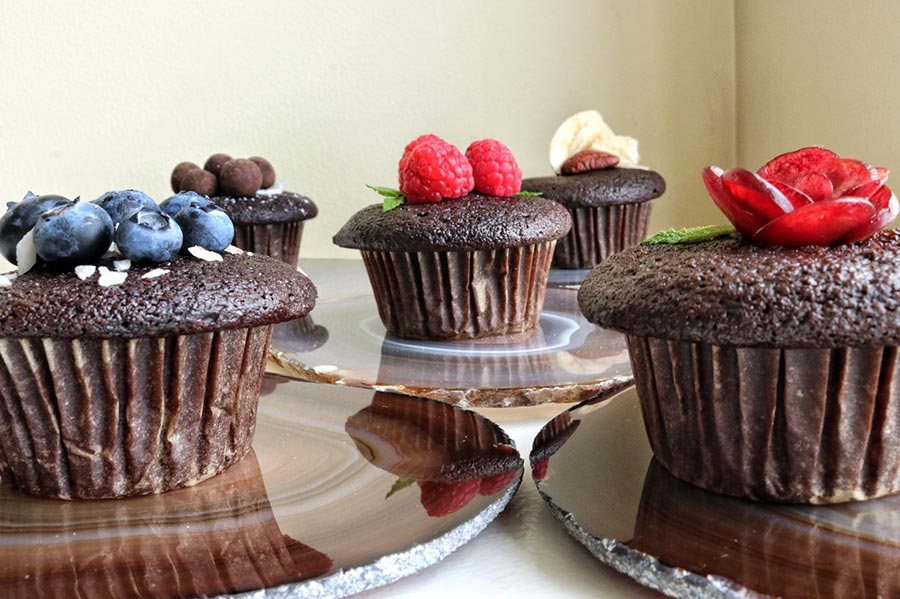 One of my favorite desserts for warm summer days are Popsicles! I have fond memories of enjoying some freshly frozen delights after a day under the blistering sun. The preparation is simple; take fresh juice or smoothies and freeze them! No need for added sugar, coloring or any other additives!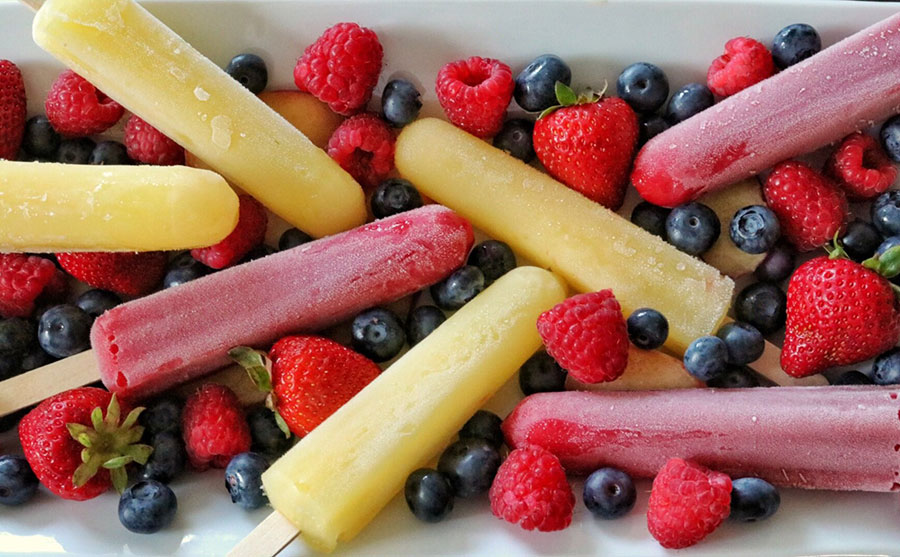 Now that I'm all grown up, I thought I'd try one of my favorite desserts with an adult twist – wine! And it's oh so delicious. Here are a few suggestions to keep in mind if you'd like to prep your own variation.
Since there is a wide variation of wine characteristics, I'd recommend utilizing a crisp and dry white wine as a base. Wines such as Sauvignon Blanc or Pinot Grigios pair wonderfully with berries and other summer fruits. Same with many Rosé and sparkling wines! Further, I'd recommend blending the fruit instead of buying juice so you get the texture and aroma without it being overly sweet. I'd suggest berries like strawberry, raspberry, blueberry or a combination therein or other types of stone fruits like peaches or plums.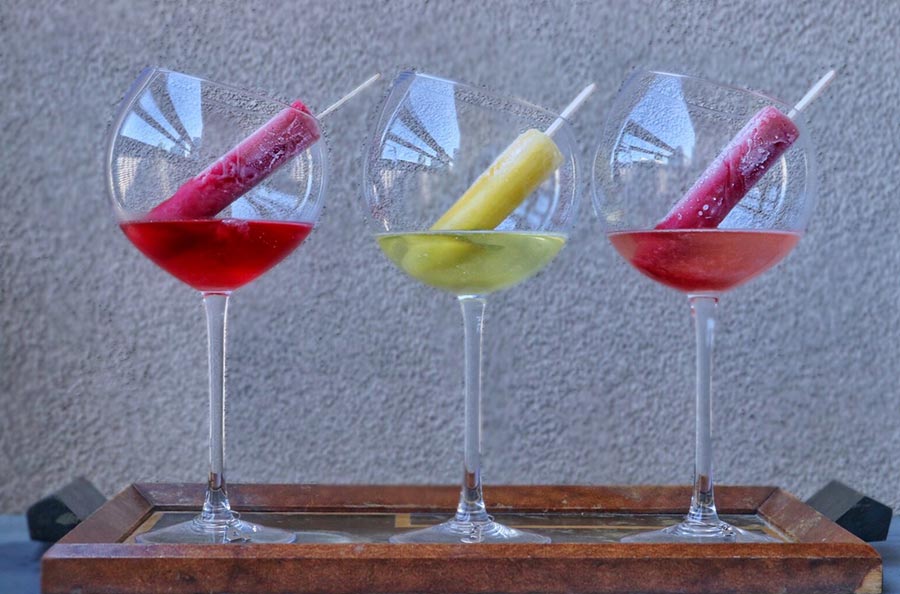 You can also vary your approach. For instance, you can make the regular fruit popsicle (fruit only) and dip it into a glass of wine or you can actually make Winesicles – a combination of wine and fruit. Here's an example of a Winesicle: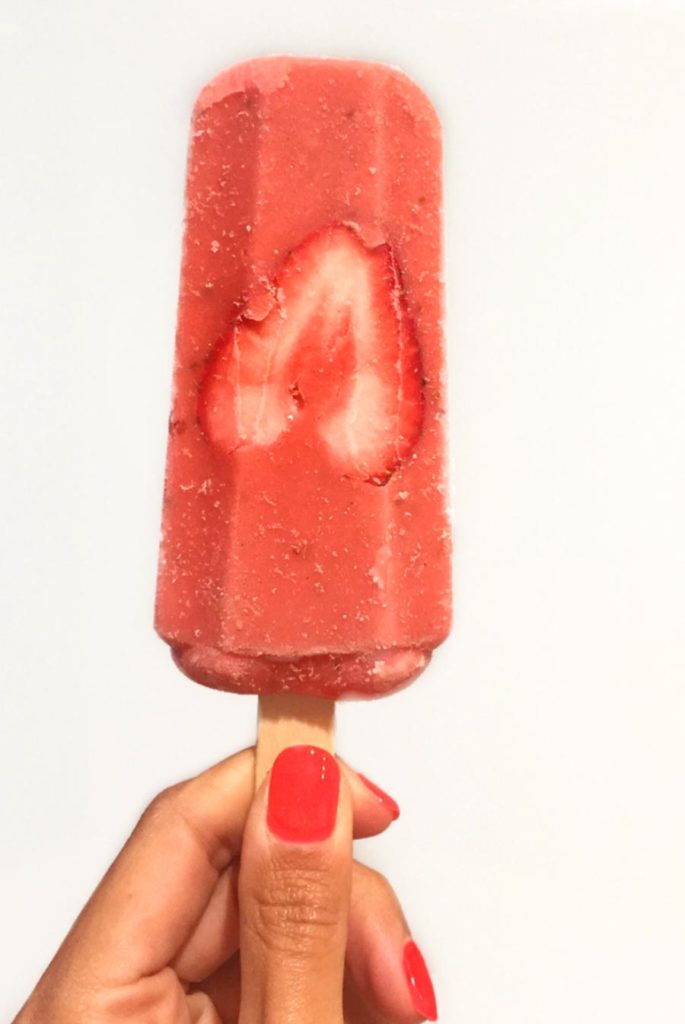 Grab your favorite bottle of sparkling wine, white or Rosé. Then for every cup of wine, mix in a cup of fresh juice, add some berries or other stones fruits and then freeze over night!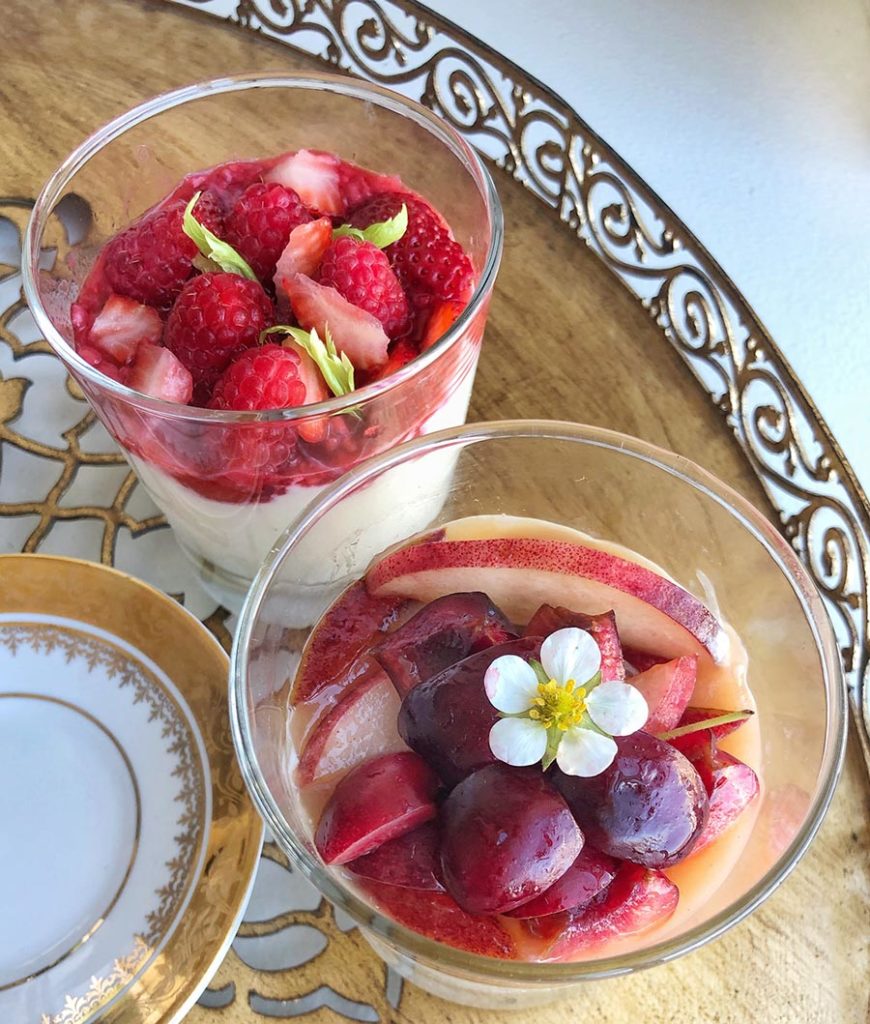 Another delightful dessert to make is panna cotta. They are so easy to make and are perfect for the summer. What makes them so great is that they are perfect base to add many different combinations of flavors. Fruit, chocolate or matcha to name a few. Here's how to make it:
2 cups heavy whipping cream
1 cup whole milk
2 1/2 tsp unflavored gelatin
1/2 cup sugar
1 1/2 tsp vanilla extract or one whole vanilla bean
1 cup sour cream
Fresh fruit to garnish (optional)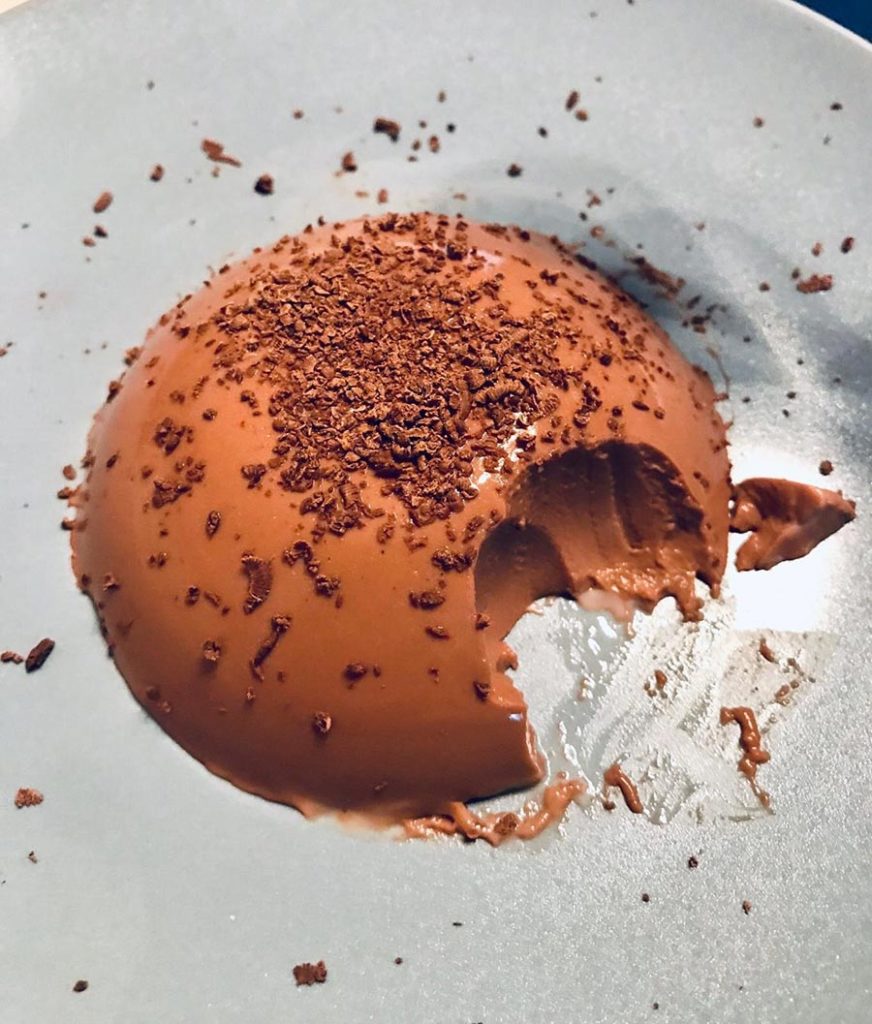 Add 2 cups heavy whipping cream, 1/2 cup of sugar, 1 1/2 tsp vanilla OR the seeds and the pod of one Vanilla bean in the saucepan. (To use the whole bean, simply halve the Vanilla bean lengthwise and scrape off the seeds using a knife). Bring to simmer over medium- low heat, stirring occasionally. After about 5 minutes and once the mixture is steaming, remove from heat and allow it to cool for 5 minutes. Make sure you don't boil the cream. (Discard the Vanilla bean pod if you used a whole bean)
Place 1 cup of milk in bowl and sprinkle the gelatin over it. Let stand for 5 minutes or until gelatin is softened. Add the gelatin mixture to the hot cream and mix well.
Place the sour cream in a bowl and while whisking constantly, gradually add it to the cream. Once the mixture is smooth, divide it into 6 wine glasses or any dish that you like. Refrigerate around 6 hours or overnight. Top with fresh berries!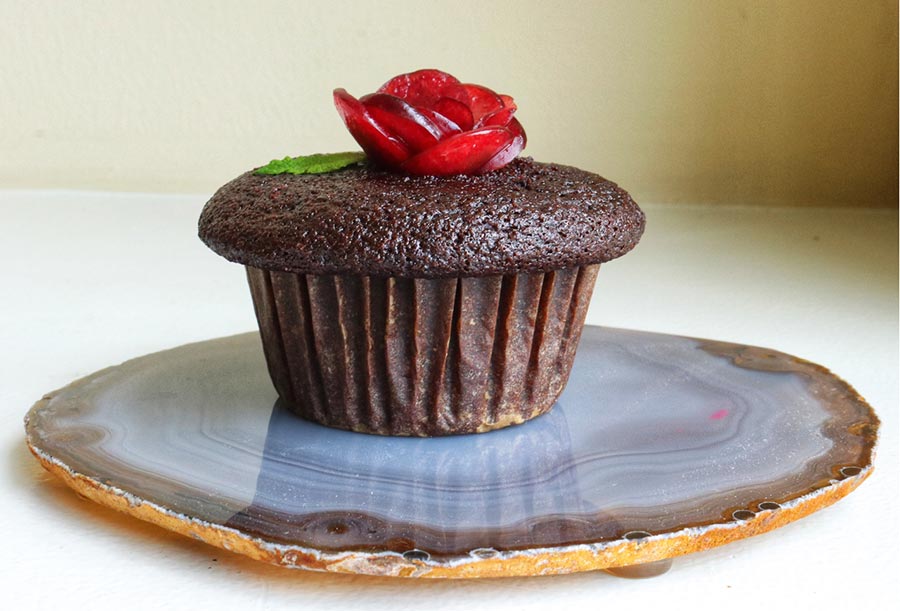 Finally, A simple gluten free, dairy free cupcake doesn't hurt anyone! speciously when it's so delicious! While I'm working to create my own recipe, here's a brand that I trust and use mostly. Follow the instructions on the box, add fresh berries or nuts of your choice into the batter and make different varieties of cakes or cupcakes each time.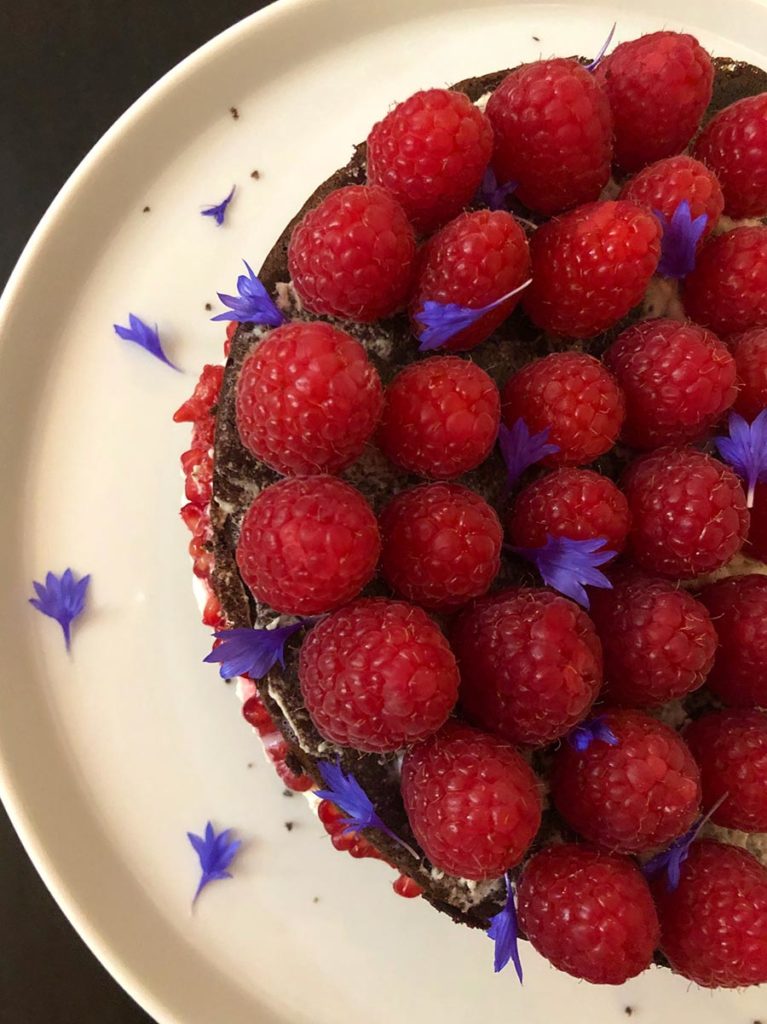 For the photo above, I added fresh raspberries and cocoa nibs into the mix. To make the filling, I simply whipped some heavy cream with 1 Tsp of honey along with crushed raspberries. Let me know what are some the combinations you've tried?